It's a Girl: Tips for Throwing a Baby Shower
Hah - no, I'm not preggers but one of my bestest friends was (she had the baby 6 days after her shower) and a few of us gals threw her a fab rooftop shower for Baby Charlotte! Interestingly enough this was the first shower I've ever attended, so planning was new for me but so fun. We really just wanted it to be a fab get together to celebrate the mommy-to-be and baby; it turned out AMAZING!
The Decor
Like all parties the planning started on Pinterest and very quickly we landed on two things to frame our decor: a balloon garland and pink/coral color scheme. I think we were all amazed at how beautiful everything turned out with just a few key items:
Bouqs Florals - instead of waiting until the day of, we pre-ordered 6 bouquets from Bouqs to arrive the day before Baby Clark's shower. This allowed the flowers to open a bit and made it super easy to put together arrangements the day of. All of the greens were purchased separately at the flower mart in Downtown LA.
For Your Party Custom items - I always turn to FYP for custom party decor because they have great templates that make it super easy to create something unique and beautiful. For this shower we went with custom cocktail napkins, cocktail stirrers, and graphic baby shower balloons.
Flatware and Tablescape - Natalie, one of the hosts, magically had all the flatware and vases (she's the hostess with the mostess) and we purchased the runner from Paper Source.
Balloon Garland - this was truly the highlight of the decor! You can either get the balloons from Party City or order them on Amazon. Make sure to get a low heat glue gun, fishing line, and balloon pump to put everything together. There are also kits available on Etsy! We followed this tutorial from Classy Clutter to create the magic!
Balloon Garland Essentials
Food + Drinks
The shower was pretty intimate but our food and beverage selection can definitely be used for larger parties!
Mendocino Farms - Mendo (for us locals) offers great catering options with sandwiches, salads, and desserts. We had an assortment that worked for all the guests dietary needs.
Snacks + Bites - all of us hosts pitched in bringing some snackable items and desserts: macarons, caprese bites, mini waffles with strawberries, and other baked goods
Summer Water Rosé - totally on color scheme and absolutely delicious, rosé seemed like the perfect treat for those guests that could drink!
Nekter Juice Bar - for anyone craving a healthy beverage, we stocked some green juices from Nekter
La Croix - because what is life without La Croix? It was also the guest of honors' fave!
Fun + Games
What's a baby shower without games? We opted for less cheesy games and different DIY then you typically see at baby showers.
Baby Prediction Card - super fun to fill out and see what everyone thinks!
Sex or Labor - literally HILARIOUS (see image below)
DIY bibs - instead of DIY onesies we bought blank bibs and super cute iron on patches for everyone to use; they turned out super cute!
Guess how big mommy-to-be is - super easy to do with some string.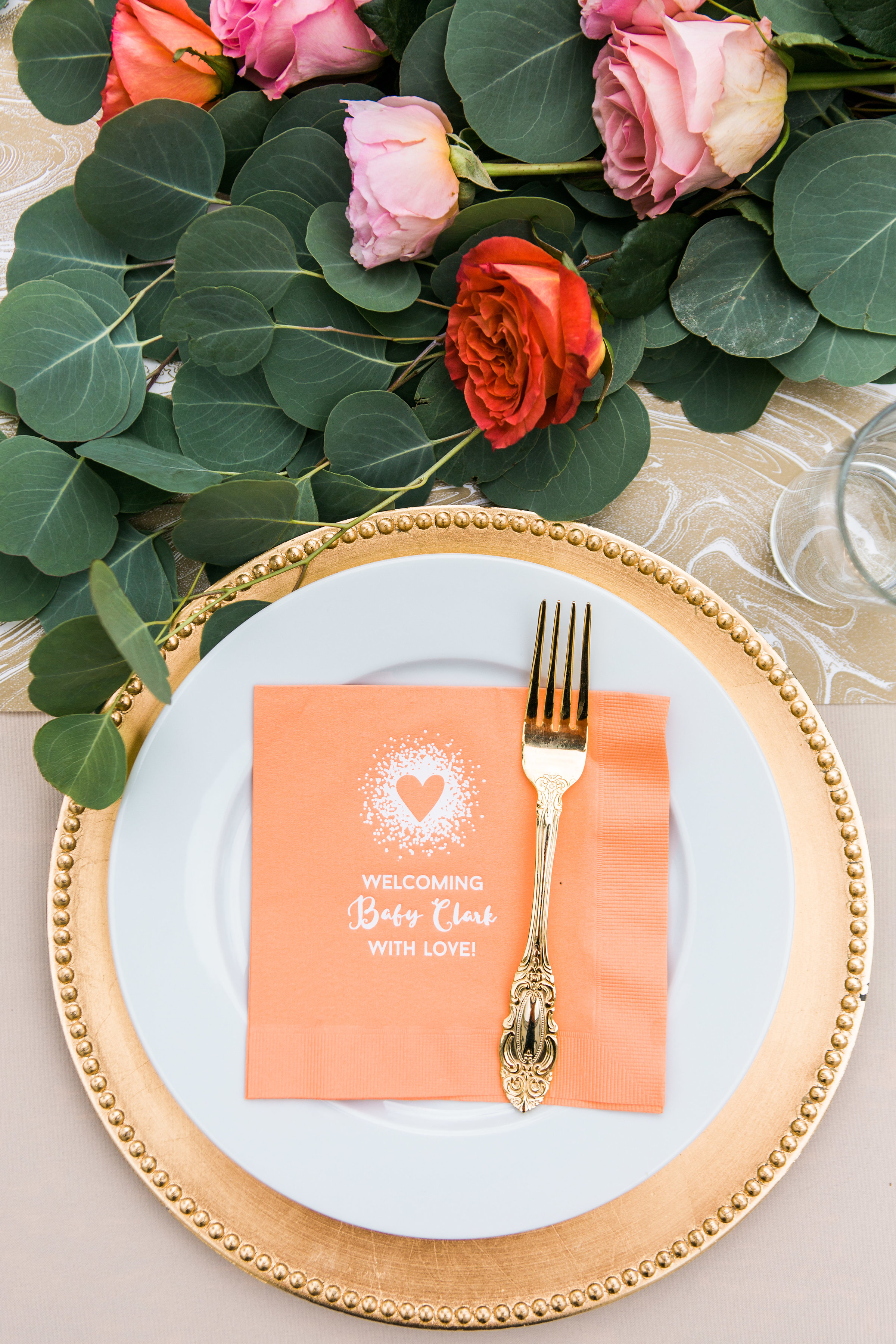 Everything turned out amazing and we kept to a pretty minimal budget! It definitely helps to have a few hosts involved so that everyone can kind of take a part they're most comfortable with. The craziest part was that half our guests were pregnant (#thisis30something) - so lunch conversation was bringing out ALL. THE. THINGS... I probably know way too much about strollers, lactation, and baby classes. Haha!

Thanks to Bouqs, WINC, For Your Party, and La Croix for helping make Baby Clark's shower oh so special! Photos by Marie Buck Photography